How do you create a restaurant that merges the best of México and Sacramento into an extraordinary experience – one that embodies the spirit, history and passion of Mexican culture but is uniquely Sacramento?
As Señor Ernesto Delgado says, 'La Cosecha is as much Sacramento as it is México!'
La Cosecha will be a place of community and kinship, a representation of all that is great about Sacramento – an acknowledgement of the contribution of the Mexican people to the history of our city, as well as a 'melting pot' of all cultures, races, ages and backgrounds coming together in harmony. A place that is truly the heart of Sacramento.
A place where you'll be able to grab a taco filled with fresh, seasonal ingredients after visiting the amazing Farmer's Market with its bright produce and joyful energy. Enjoy an exquisite Mezcal cocktail on the patio. Sit with friends after an exciting Concert in the Park and taste the soul of México through a small-batch, artisanal Mezcal. Celebrate the great fortune to live in a place of beauty and history, where produce is picked in the morning and on your plate for lunch.
Creating something unique begins with a vision. It grows with hard work and determination. It takes not only a leader, but a team of dedicated individuals who share that vision. We interviewed two of them recently, to get a glimpse into the hearts and minds of those who will help La Cosecha become a Sacramento icon.
Leading the La Cosecha teams for Señor Delgado are Chris Sinclair, Cocktail Consultant/Bar Manager and Adam Pechal, Chef Consultant. The management leadership team from Mayahuel is also essential to the opening of La Cosecha – they play an integral role in allowing Señor Delgado the freedom to pursue each new venture. Their expertise and support have been – and continue to be – incredible.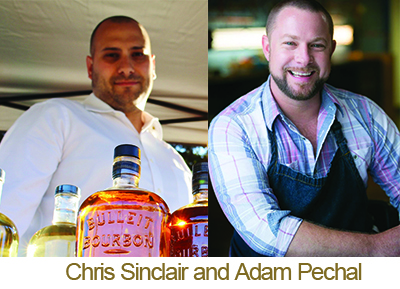 Adam and Chris bring with them a creative and experienced background. Chef Adam Pechal graduated from Culinary Institute of America in Hyde Park, New York. He's the former chef/owner of Tuli Bistro, Restaurant Thir13en and Tuli Catering in Sacramento. Bartender Chris Sinclair was the founding President of the Sacramento Bartenders Guild, an instructor at the San Francisco School of Bartending, and serves as a board member of the United States Bartenders Guild National Education Committee. Most recently, he was the Bartender at the Red Rabbit in Sacramento.
Here's what they have to say:
Q: What attracted you to become a part of La Cosecha?
Adam: Everything! First, Mexican cuisine has been a favorite of mine for much of my career. I've been lucky to have worked in a few restaurants where we prepared and served authentic regional Mexican food. The rustic and bold flavors really resonate with me. The concept of merging traditional Mexican cuisine with Sacramento's local, seasonal produce is right up my alley.
Chris: First and foremost the attraction was the chance to work with Ernesto Delgado. Over the years, I've had the privilege of witnessing his passion and creativity, as well as the respect for his staff that they certainly reciprocate. Once I understood his thinking behind La Cosecha, and inspiration for it, I was even more excited to come on board and add what I can.
Q: How does the Cesar Chavez Plaza location add to the concept?
Adam: I love the location! Aside from being in the heart of downtown in a park known for local live music and great festivals, it's also the home of one of my favorite farmer's markets. The Wednesday market has been one of my go-to's for many years. The fact that I can now just wheel a cart right out the kitchen door and into the market to gather the freshest, ripest produce our region has to offer is a dream come true.
Chris: La Cosecha is defined by the location! Opening a bar/restaurant in a park is something truly new for Sacramento. We hope to cultivate an environment where our community feels welcome to simply enjoy the space with us. Whether it's grabbing a quick bite or kicking back and enjoying being outside while in the thick of our city, my hope is to create a fun, accessible experience.
Q: Why do you feel Sacramento is ready for this concept?
Adam: More and more, Sacramentans desire the great local products that our valley provides. And who doesn't love truly Mexican food? I don't think a better concept could be fit for Cesar Chavez Plaza.
Chris: I'm of the belief that authenticity and quality are always desired and preferred. The real question – how does a restaurant have that conversation with their guests? We've worked diligently to not only create an atmosphere that is approachable and fun, but have really dissected some of the smallest details to make sure that message translates.
As for the bar, with the growth of cocktail culture in Sacramento, our community is beginning to step outside their 'comfort zone'. A lot of that comes from the trust they have cultivated with their local bartenders. While we certainly aren't shying away from pushing the envelope, we also aren't reinventing the wheel. We want to gently broaden our guests exposure to Mezcal and other Agave spirits, and the culture that surrounds it.
Q: How do you plan to combine Mexican influence and Sacramento culture?
Adam: While sticking to traditional techniques and methods of Mexican cooking, I will incorporate the amazing Sacramento bounty that has served as the heart of my culinary repertoire throughout my career – over two decades. While you'll see many classic Mexican dishes on the menu, I plan to add a few solid Sacramento favorites while still incorporating the ingredients of México.
Chris: Sacramento is already steeped with Mexican influence. My desire is to simply draw attention to this in a new way that is whimsical, fun and accessible. We want people to gain a fascination not only with Mexican culture, but the history and cultural significance of Agave and Mezcal. La Cosecha's location – in the middle of one of our more highly used public spaces downtown – will help fuse the two together organically.
Q: Any fresh, new ideas you hope to implement?
Adam: When tasked with a new concept, especially one not introduced before, I really like to do my research. I decided to immerse myself into the foods of the state of Michoacán. Although I'm quite versed in the foods of many of Mexico's regions, Michoacán is one that is not well known. As Ernesto Delgado's home state, I feel it's essential to learn as much as I can and represent those elements on the menu. One thing I was surprised to learn is that carnitas originated in Michoacán. I plan to create the best carnitas in town! Knowing we'll be serving many downtown workers for lunch, I plan to offer a Mexican favorite that's seldom represented – the Torta. Any good sandwich is about the bread, so we'll be partnering with one of Sacramento's great local bakeries to produce our Teleras. Again, we'll follow traditional techniques while incorporating the best seasonal produce, local meats and cheeses.
Chris: I tend to take a whimsical stance on most things food and spirits, without overthinking it. To me, enjoying food with a good drink and great company is the definition of the good life. Being able to provide this for others brings me a sense of pride and joy. My goal is to provide this community with something fun and enjoyable, although I do have a few tricks up my sleeve. I've taken a fresh look at a few classic drinks people think they already know (e.g. The Adios AKA AMF, and the Apple Martini) and crafted something really fun and truly delicious. I am focusing on sustainability – one way is to replace beverage napkins and replace them with reusable handmade coasters. I will be using biodegradable straws. After a lifetime in this industry, I realize we can have a huge impact on our environment by making even small changes.
Q: How is Ernesto Delgado different from other restaurateurs?
Adam: Since meeting Ernesto last year, we've shared many meals and even more great stories. As a restaurateur myself, I've developed a deep respect for Señor Delgado, not just for his success in business, but his personable manner and deep humility. He has a clear passion for Mexican food and culture while having a great love of Sacramento and his community.
Chris: Ernesto is one of the good guys. He truly cares – about every aspect of his restaurants – the team, the food he serves, the atmosphere and experience of each guest. It seems so simple, but it's not easy to care so much every day. He does, and he carries the responsibility of his convictions well. To me, that is truly inspiring.
We're excited Chris and Adam are leading the La Cosecha team members with Ernesto and welcome the expertise, creativity, and consideration for our community they bring to a unique venture.
After all, business success, sustainable thinking, kindness and compassion do not need to be mutually exclusive.
The great Cesar Chavez said 'If you really want to make a friend, go to someone's house and eat with him… the people who give you their food give you their heart.'
Welcome to our house.